Members are expected to wear the approved two piece uniform. Consisting of a long sleeve white cotton shirt available to order from here and orange safety pants, available from various work wear outlets (reflective tape optional).
Payment details are on the form and the order form should be submitted to the treasurer.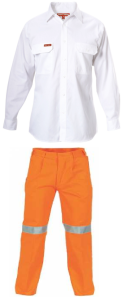 As new members are not expected to make a uniform purchase until they are sure that they would like to became involved in the club, a small supply of overalls are available for use at Mallala by new members free of charge. Please BYO PPE appropriate to the conditions and position you're working on the day.
Members are required to provide their own personal clothing and PPE (hearing protection, gloves, wet weather gear, etc.).